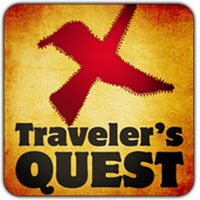 Traveler's Quest is a GPS Treasure Hunt Game available only on the iPhone, and Created by Kitty Code, LLC in Orlando, FL.
Adventures in Traveler's Quest was created for our players, as a way to better keep track of suggestions, hints, tips and tricks – something that just wasn't available on Facebook where we were conversing previously. This site was created in January, 2012 after over 2 years of game play and Facebook use. Unfortunately, some of our information was lost when Facebook removed the Discussions, a feature we were making great use of. We hope to make this site more robust and useful to the players as time goes on, so please feel free to leave suggestions both for this site and for the game itself. We do listen to everything, and play the game alongside you – making this game unique and fun for all. We hope you agree – and if you don't, please let us know why so we can fix it!
Thanks for being the best players a small team of developers could ever hope to have!
— The TQ Team
---
Some Convenient Links: